College Bridge Academy
SHIELDS' College Bridge Academy (CBA) is a grade 9-12 charter school which targets youth who have dropped out or been expelled from traditional school systems.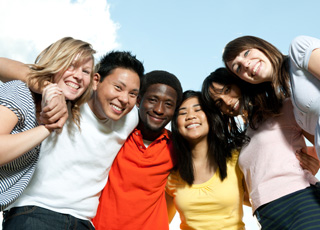 15116 S. Gibson Ave. | Compton, CA 90221
program info 323.242.5000 x4133 | fax 323.242.5011
TTD/TTY (English) 800.735.2922 | TTD/TTY (Spanish) 800.855.3000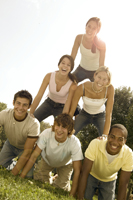 The need for youth services in South Los Angeles is especially high. 26% of teenagers in South Los Angeles between 16 and 19 are high school dropouts. Twice as many residents do not possess high school diplomas compared to the countywide rate. Children of substance-abusing parents are at particular risk; they are more likely to have behavioral and educational problems, be involved in the juvenile justice and child welfare systems, and have been enrolled in multiple schools by the time they reach high school.
In order to address these disparities, SHIELDS partnered with the Los Angeles Education Partnership (LAEP) to open the College Bridge Academy in August of 2013. The College Bridge Academy is a charter high school for high-risk youth who are involved in SHIELDS and/or our partner agencies.  SHIELDS utilizes a "community ecosystems" research-based approach to education, which emphasizes problems as a function of the larger whole rather than as pieces existing in isolation. To this end, our youth programs develop a detailed service plan to monitor youth progress and development and provides comprehensive educational and behavioral health services to meet students' needs.
The College Bridge Academy has grown rapidly from only 30 students in the first two months to the maximum capacity of 130 by the end of our first year.  In 2015, the Academy added a second site in Watts to accommodate the growing popularity of the program, and graduated our first set of seven seniors, all of whom were accepted into four-year colleges.
Target Population
The College Bridge Academy, operational in two locations in Compton and Watts, is a grade 9-12 charter school which targets youth who have dropped out or been expelled from traditional school systems. Our primary referrals come from the local high schools in the Watts and Compton communities (Los Angeles and Compton Unified School Districts).
Services Provided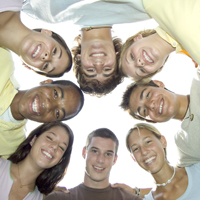 The College Bridge Academy provides traditional academic instruction as well as a range of wraparound supportive services, including individual tutoring, social and life skills training, case management, counseling, and recreational activities.
Classroom instruction for grades 9-12 includes instruction in English language arts, mathematics, science, and social science/history, designed to help students achieve an accredited high school diploma. All CBA students are assigned individual tablets which enable them to complete assignments electronically, and all CBA classrooms are equipped with SMART boards that allow instructors to create and deliver lessons electronically.
Individual tutoring is provided via partnership with School on Wheels, which provides computer-based tutoring services that utilize multiple online programs to assist students' skill development. In addition to this group tutoring, students can receive individual attention via virtual tutors. Students utilize the APEX Learning Virtual School to complete core curriculum credits towards their high school diplomas.
Social and life skills training is provided to improve youth problem-solving and decision-making skills as well as cultural activities. Staff engage youth in daily workshops on topics such as self esteem/cultural identity, leadership development, community campaigning/mobilizing, substance abuse prevention, and social skills.
Case management services are designed to ensure the coordination of comprehensive services. Each youth and family is assigned a case manager who ensures service delivery, provides referrals, and advocates for individual needs.
Counseling is designed to provide mentorship and guidance for youth as well as to encourage parental participation in students' academic progress.  Youth receive individual counseling from both an on-site therapist and a family counselor a minimum of once per week, and engage in two-hour weekly group sessions.
Recreational activities are provided, including sports, arts and crafts, field trips to local landmarks and events, and dance and musical performances.
Community Partnerships
The College Bridge Academy is provided in partnership with the Los Angeles Education Partnership (LAEP), an education nonprofit that works as a collaborative partner in high-poverty communities to foster great schools that support the personal and academic success of children and youth from birth through high school.
Additional partners in service at College Bridge include School on Wheels, Maxine Waters Employment Preparation Center, and St. Aloysius Catholic School.
Accomplishments and Recognition
As of the first quarter of 2016, over 30 students are set to graduate and attend four-year universities.
All youth enrolled at CBA have shown a dramatic increase in both attendance and academic performance; all students are averaging a C or higher in all classes.
Standardized assessment results indicate that our interventions consistently improve self esteem, self confidence and cultural awareness; positive attitudes towards school; increased social and leadership skills, and knowledge of alcohol, tobacco, and other drugs.
In 2015, we received grants to enroll families in St. Aloysius Catholic School, where we now have over 20 students enrolled.