Youth Substance Use Disorder Treatment
SHIELDS' Youth Substance Use Disorder Treatment programs target adolescents and young adults who have substance abuse and mental health issues, as well as probationers involved with the criminal justice system.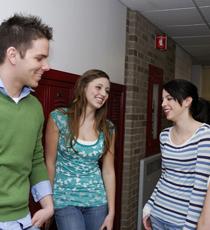 11601 S. Western Avenue | Los Angeles, CA 90047
program info 323.242.5000 | fax 323.242.5011
TTD/TTY (English) 800.735.2922 | TTD/TTY (Spanish) 800.855.3000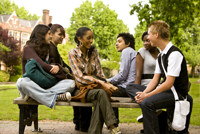 SHIELDS' Youth Substance Use Disorder Treatment programs provide treatment and recovery support services for youth and adolescents experiencing substance use disorders. The adolescent years are a key window for both substance use and the development of substance use disorders. Abusing drugs during adolescence can interfere with meeting crucial social and developmental milestones and also compromise cognitive development. SHIELDS' programs are designed to help youth and adolescents maintain a positive and productive drug-free lifestyle that promotes meaningful and beneficial relationships and connections to family, peers, and the community both during treatment and after treatment ends.
Programs
SHIELDS' Revelation Dual Diagnosis program serves adolescents aged 12-20 who are experiencing both substance use and mental health disorders. Though the program accepts walk-in participants, most are referred directly from the Department of Probation. Revelation is certified by the California Department of Alcohol and Drug Programs (ADP) and is licensed to operate in the City of Compton.
SHIELDS' Day Reporting Centers provides a variety of intensive outpatient mental health services to Probation-referred youth at Lynwood and Long Beach High Schools.
Services Provided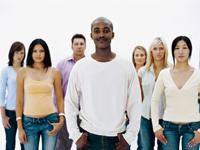 Our Youth Substance Use Disorder Treatment programs address substance use disorders and strengthen families through comprehensive and collaborative services including comprehensive case management, individual, group, and family counseling, educational and vocational services, life skills classes, drug and alcohol education, child development and parenting, and urinalysis testing.
Furthermore, SHIELDS utilizes an array of industry-recognized evidence-based practices in order to provide effective substance use treatment services, including Cognitive-Based Therapy, Seeking Safety, Motivational Interviewing, Family-Centered Treatment, and Triple P Positive Parenting.
The Revelation program operates during weekday afternoons for three hours.  Program staff perform complete intakes and psychosocial assessments for each client utilizing the Teen Addiction Severity Index (TASI). Assessments include medical histories, drug use histories, legal, vocational, educational, mental health information, and physical exams.
Finally, our Youth Substance Use Disorder Treatment programs provide linkage and referral services to additional substance use and mental health treatment  programs at SHIELDS and other community-based providers, as well as linkage to our collaborative networks that provide housing, food, clothing, and transportation for those in need.
Community Partnerships
SHIELDS' Youth Substance Abuse Treatment programs are primarily funded by the Los Angeles County Department of Mental Health (DMH) and the Los Angeles County Probation Department (Probation).  Necessary services are provided in coordination with a variety of County and State agencies, including the Los Angeles County Departments of Rehabilitation, Public and Social Services, and Children and Family Services.
Services and supports for vocational and educational training and job development activities are provided in partnership with the Compton Regional Job Training Center, Compton Adult School, Jordan-Locke Community Adult School, Maxine Waters Employment Preparation Center, Los Angeles Trade Technical College, and Harbor College.
Accomplishments and Recognition
The Revelation Program serves between 60-75 participants a year, and has consistently maintained a high completion and positive compliance rates in comparison to other Los Angeles County programs, according to the UCLA Integrated Substance Abuse Programs (ISAP)'s Annual Site Reports
The Revelation Program's focus on comprehensive case management services and school involvement has been shown to consistently improve participants' school attendance rates.
The Revelation Program is known within DCFS and Probation agencies for working closely with youth, their families, and their schools as being advocates for clients, as well as being an integral component to helping clients complete probation requirements and/or close their DCFS cases.