Perinatal Substance Use Disorder Treatment
SHIELDS' Perinatal Substance Use Disorder Treatment programs serve adult parenting women with children 0-18 who are struggling with substance use disorders.
11601 S. Western Avenue | Los Angeles, CA 90047
program info 323.242.5000 | fax 323.242.5011
TTD/TTY (English) 800.735.2922 | TTD/TTY (Spanish) 800.855.3000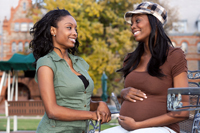 Women of childbearing age in our community are at extremely high risk for health problems, and have little ability to address social determinants of health due to low socioeconomic status and barriers to health care. Major and persistent racial and ethnic disparities continue to exist for pregnancy-related maternal morbidity and mortality, infant mortality, and other adverse outcomes such as low birth weight and preterm birth. Furthermore, women in the community face many environmental, biological and behavioral risk factors over their lifespans that may negatively affect pregnancy outcomes.
The goals of our Perinatal Substance Use Disorder Treatment programs are to support the successful, long-term recovery of our clients and to strengthen the family and community by building skills through education, counseling and support. Our programs provide a new beginning for individuals and families affected by substance abuse issues in South Central Los Angeles.
Programs
SHIELDS' Genesis program serves adult parenting women with children 0-18 who have a short to moderate-term history of substance abuse. The very first program established by SHIELDS in 1990, Genesis is certified by the California Department of Alcohol and Drug Programs (ADP) and is licensed to operate in the City of Los Angeles. Services are provided in both English and Spanish.
We regret to inform you that as of February 28, 2018, SHIELDS' Exodus Family-Centered Treatment Program at Keith Village is closed.
SHIELDS remains committed to providing comprehensive, collaborative substance abuse treatment programs in South Los Angeles through our Mt. Carmel, Genesis, Ark, and Revelation programs.  If you are currently attending Exodus, our support staff will help make sure you make a smooth transition into one of these programs, or into one operated by another provider.  If you are also currently enrolled in other SHIELDS programs, such as mental health, educational and vocational, and child welfare services, you will continue to receive services at those programs without interruption.
Furthermore, in order to ensure you obtain housing that meets you and your family's needs, we will team up with local landlords and community-based agencies to provide linkage to resources, locator services, and housing resource fairs.  You may be eligible to receive services through our Homeless Family Solution Services (HFSS) program and affiliate agencies.  A multidisciplinary team of SHIELDS staff will work with you on-site until all of your housing and treatment needs are met.
Whether you are an existing participant or someone interested in attending our programs for the first time, the SHIELDS family will always have a place for you. If you are interested in attending one of SHIELDS' comprehensive, award-winning programs, please don't hesitate to call us at (323) 242-5000.
Services Provided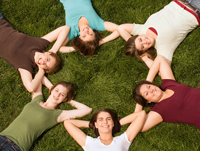 Our Perinatal Substance Use Disorder Treatment programs  strengthen families through comprehensive and collaborative services including comprehensive case management, individual, group, and family counseling, educational and vocational services, life skills classes, drug and alcohol education, child development and parenting, and urinalysis testing.
Furthermore, SHIELDS utilizes an array of industry-recognized evidence-based practices in order to provide effective substance abuse treatment services, including Cognitive-Based Therapy, Seeking Safety, Motivational Interviewing, Family-Centered Treatment, and Triple P Positive Parenting.
Case management services include complete intakes and psychosocial assessments. Assessments include medical histories, drug use histories, legal, vocational, educational, mental health information, and physical exams. Primary treatment services are based upon this assessment and the development of a service plan to address those identified needs. Duration and intensity of services are determined based on the service plan.
Finally, SHIELDS provides linkage and referral services to additional substance abuse and mental health treatment  programs at SHIELDS and other community-based providers, as well as linkage to our collaborative networks that provide housing, food, clothing, and transportation for those in need.
Community Partnerships
SHIELDS' Perinatal Substance Use Disorder Treatment programs are primarily funded by the Los Angeles County Department of Public Health's Office of Substance Abuse Prevention and Control (SAPC), and by the Los Angeles County Department of Mental Health (DMH). Necessary services are provided in coordination with a variety of County and State agencies, including the Los Angeles County Departments of Rehabilitation, Public and Social Services, and Children and Family Services.
Services and supports for vocational and educational training and job development activities are provided in partnership with the Compton Regional Job Training Center, Compton Adult School, Jordan-Locke Community Adult School, Maxine Waters Employment Preparation Center, Los Angeles Trade Technical College, and Harbor College.
Accomplishments and Recognition
SHIELDS received the national C. Everett Koop Award for our work at Genesis.
The number of drug exposed births in the community decreased by 75% within 2 years of the opening of the Genesis program, decreasing costs at Martin Luther King Hospital by $60 million.
The UCLA Integrated Substance Abuse Programs (ISAP)'s Annual Site Reports consistently show that SHIELDS' treatment programs demonstrate high positive compliance rates, success in decreasing participants' average days of drug and alcohol use, and increasing participants' positive employment activities.
SHIELDS' Exodus Program, operational from 1994 until 2018, was the only program in the United States that allowed the entire family unit to live in the treatment environment in individual family apartments. The average length of stay in the Exodus program was approximately two years, compared to the national average of less than 90 days.