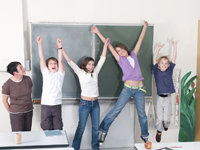 SHIELDS knows that the early years of life are among the most critical and most vulnerable for a child—a time when a child needs stability and family support. As a child enters school and adolescence, the challenges can often be overwhelming. We know that a successful family is a supported family, so we offer parents the education they need and the support they deserve to foster the success of their children. We start with children as young as 6 weeks in our child development centers and stay with them as they grow and learn in elementary, middle and high school.
SHIELDS has four Child Development Centers that serve more than 160 children ages 0 to 5 annually. Children in our program have at least one parent attending our substance abuse treatment programs. In fact, SHIELDS is the only program in the United States that enrolls all children in services with their mother or father, ensuring that families remain intact and avoiding out-of-home placements. Children participate in activities that promote their social, emotional, cognitive, language, creative and physical development and ensure that they attain the skills necessary for entering kindergarten. Each child receives developmental screenings and assessments to ensure they receive the specialized attention they need, an Individual Education Plan, and intensive center-and home-based early childhood education services. Since a parent is a child's first teacher, SHIELDS' early childhood education specialists work hand-in-hand with parents to ensure they have the information and support they need to foster their child's development and education. Services include Mommy & Me classes, Daddy & Me classes, parenting classes and supervised interaction workshops.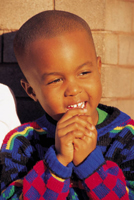 South Los Angeles remains among the most disadvantaged and underserved communities in the nation, with an infant mortality rate 20% higher than the overall figure for the county. Our Healthy Start program works to reduce infant mortality and morbidity, as well as disparities in health care in the area. We provide comprehensive, critically needed services to 200 substance-abusing pregnant and postpartum women and their children annually. Women with children under 2 years old receive case management, health education, screening for perinatal depression, and interconceptional continuity of care.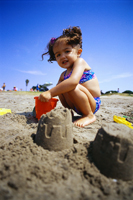 Our After-School and Youth Services programs for children and youth ages 6 to 18 are designed to meet the needs of inner-city students. After-school programs have been proven to prevent violence in the community, reduce teen drug abuse and pregnancy, and improve school attendance. SHIELDS' Heros and Sheros program provides prevention and early intervention for students, including self-awareness, tutoring, mentoring, and social and recreational activities that help children succeed in school and in life. In 2014, Heros and Sheros expanded to provide services at a Charter High School, College Bridge Academy. The College Bridge Academy is a grade 9-12 charter school which targets youth who have dropped out or been expelled from traditional school systems.
Launched in 2014, SHIELDS' Welcome Baby Program at St. Francis Medical Center provides in-hospital visits, nurse appointments, parenting services, information and support with pre- and post-natal health care, and referrals and linkage for mothers and their infants in South Los Angeles. Welcome Baby is a component of Best Start – a multi-year effort created by First 5 LA that aims to shape, strengthen and support L.A. County neighborhoods by building resources and providing access to activities that improve the well-being, development and care experienced by pregnant women, new parents and children age 5 and under. Welcome Baby families with additional needs are linked to SHIELDS' Home Visitation Program, which provides home-based case management, parenting and child development, early childhood education (ECE) activities, and linkage and referral to a wide range of supportive services.