Achieving Change Together / Partnerships for Families (ACT/PFF)
The ACT/PFF program is a collaborative child abuse prevention program that provides one-stop, comprehensive services targeted for pregnant women and high-risk families with children age five years or younger who are at risk for child maltreatment.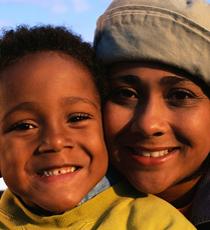 600 N. Alameda St. East | Compton, CA 90221
program info 323.568.2055 |  fax 323.568.2065
TTD/TTY (English) 800.735.2922 | TTD/TTY (Spanish) 800.855.3000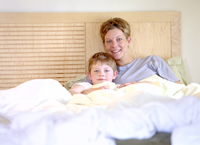 Implemented in 2005, SHIELDS' Achieving Change Together / Partnerships For Families (ACT/PFF) program is a child abuse prevention program designed to address the needs of South Los Angeles residents who are at risk for child maltreatment.  ACT/PFF is a collaborative effort between five core partners and numerous community partners who strive to improve quality of services and supports for at-risk families; increase capacity of community partners; identify, engage, and serve at-risk families, and increase information about prevention of child abuse and neglect.
First 5 Los Angeles developed the Partnerships for Families (PFF) initiative in 2003 as a systemic response to child maltreatment. The program has emerged as one of Los Angeles County's most ambitious undertakings ever for preventing the abuse and neglect of children. Its vision for an innovative, large-scale, systematic change has called for a complex implementation plan that utilizes the strengths of collaborating nonprofit organizations that are committed to serving this vulnerable population.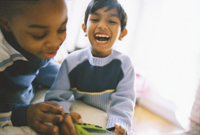 Target Population
SHIELDS' ACT/PFF program serves two populations:  (1) high-risk families referred by the Los Angeles County Department of Children and Family Services (DCFS), and (2) pregnant and parenting women residing in the South Los Angeles community who have risk factors for child maltreatment inclusive of young maternal age, domestic violence, and substance abuse/mental health issues.
Services Provided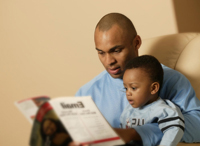 Our services strengthen families through comprehensive and collaborative services including intensive case management services, child development services, teaching and demonstrating homemaking, educational and vocational services, parenting classes, emergency basic family needs, domestic violence classes, Fatherhood program support, and linkage and referral services. ACT/PFF utilizes a unique model of co-location, with all partner staff housed at one site in the community.
All ACT/PFF participants receive intensive case management services. Case managers provide client-centered activities that assist participants with addressing needs identified through individualized service plans and needs assessments.  Case managers also provide regular home visits, assist with applications for benefit and entitlement programs, and provide linkage to services necessary to meet families' auxiliary needs.
All ACT/PFF participants in need of child development services are provided with services through SHIELDS' on-site Child Development Centers as well as Para Los Niños' Childcare and Development Centers. The centers provide disadvantaged children the opportunity for normal, healthy, age-appropriate development. SHIELDS and PLN screen and asses each child to determine the need for intervention and referral.
Participants receive educational and vocational services through SHIELDS as well as our partners Para Los Niños and the Drew Child Development Center. SHIELDS' offerings include basic skills and high school equivalency educational classes, a variety of industry-recognized certification training, and traditional employment services such as job readiness, job placement, and job search services. PLN and Drew CDC offer life skills classes designed to increase awareness of the issues impacting families, assist in changing behavior for participants enrolled in the program, and enhance the ability to obtain and maintain family health and optimal functioning.
Participants receive evidence based parenting classes (Nurturing Parents) in both English and Spanish. These classes are designed to develop and increase appropriate child-rearing skills for participants, utilizing both center and in-home models.
Emergency Basic Family Needs funds are used to assist families with urgent daily life necessities.  These services are provided only when these resources are unavailable to the family through any other means, and include food, clothing, transportation, furniture, and utility and housing assistance.
Participants receive domestic violence classes through our partner agency Drew Child Development Corporation.  These classes are designed to educate individuals and couples and prevent future instances of domestic violence.
A Fatherhood program is also offered for husbands, significant others and males in the community to support their efforts to become strong male role models for their children.
Finally, SHIELDS' ACT/PFF program utilizes existing community-based collaborators to provide services to families that are not available through the program's resources. This includes linkage and referral to programs at SHIELDS and other community-based providers for substance use disorder treatment, mental health services, legal services, and to our collaborative networks that provide housing, food, clothing, and transportation for those in need.
Community Partnerships
SHIELDS' ACT/PFF program is provided in collaboration with four core partners. SHIELDS serves as the lead agency, while the Children's Bureau, Personal Involvement Center, Para Los Niños, and Drew Child Development Corporation (Drew CDC) work together to provide supplemental child welfare services.
ACT/PFF has also developed relationships with over 50 community partners, including the Los Angeles Urban League and West Angeles Community Development Corporation, who provide on-site and linkage services at no cost to the program.
Accomplishments and Recognition
The ACT/PFF program has served over 800 families since inception
ACT/PFF has achieved a 77% engagement rate with both DCFS and community-referred clients.
ACT/PFF consistently achieves one of the lowest DCFS re-referral rates in the County at approximately 8%
ACT/PFF has created a unique partnership with the Master of Social Work program at California State University, Dominguez Hills, to train professionals in the community; 15 staff have received their MSW degrees through our collaboration
Through external capacity building activities, SHIELDS was able to purchase an office building in the community to support long-term sustainability efforts